Flow Kiosk 1.6 New Features – Autolaunch, Night Mode & Video Controls
Flow Kiosk 1.6 New Features – Autolaunch, Night Mode & Video Controls
Flow Kiosk 1.6 is out an available
We have added three new features and all were requested via customers. They are Auto Start, Night Mode & Removal of Video Controls setting.
We are so lucky to have active users and an open dialogue with our customers – thanks in a large part to Drift and direct web chats. We love to engage with our customers and we listen to our customers.
Auto launch into a Flow/presentation/kiosk mode.
This feature was requested by Jessica who works for an agency in Sydney Australia. Their customer wanted to run a retail iPad kiosk pilot. They wanted to ensure that the retail stores didn't need to do anything to get the iPads into Flow Kiosk and their flow securely.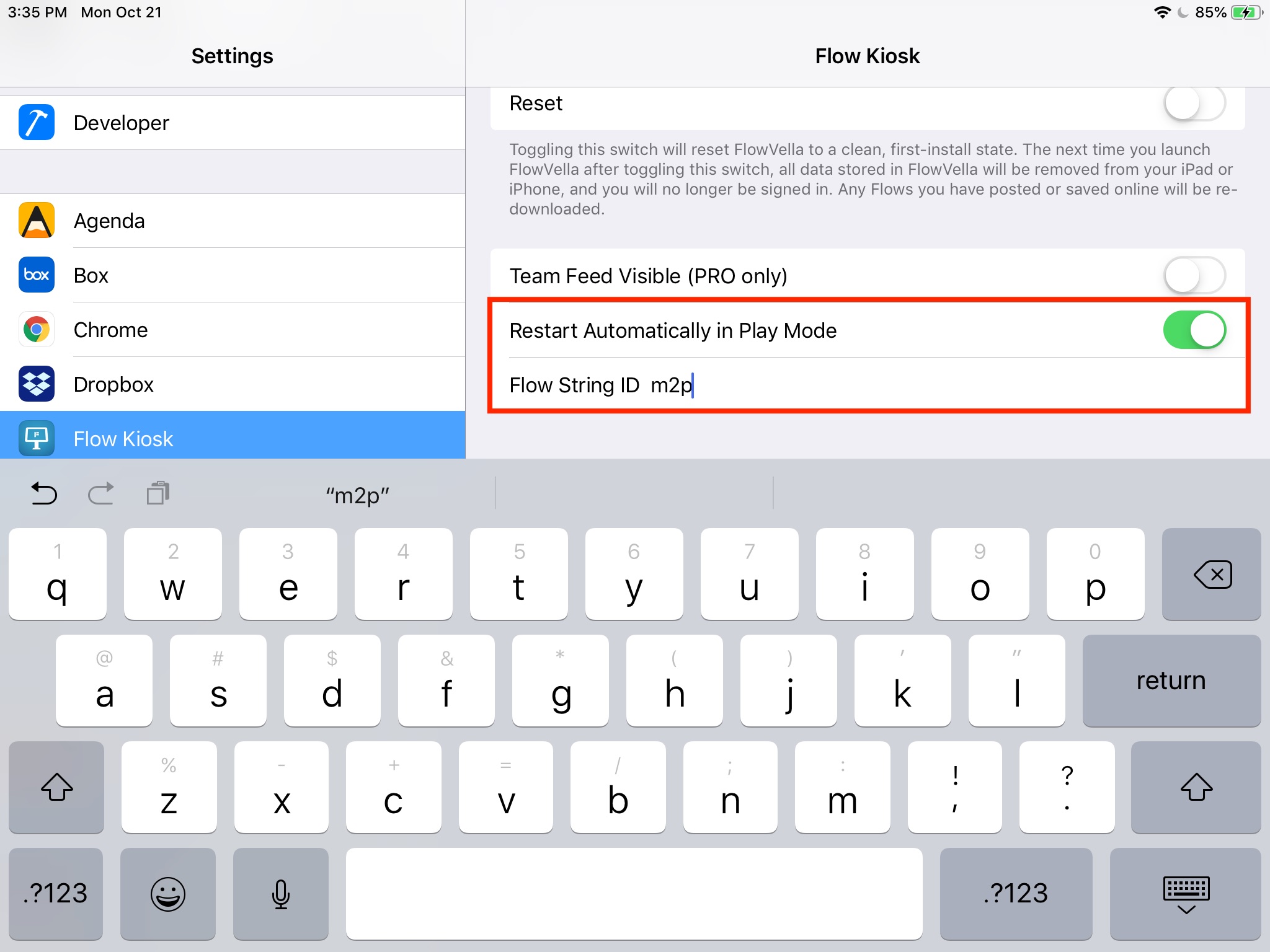 Here's how it works.
We placed a couple of settings in the main Settings app under Flow Kiosk.
You switch on Restart Automatically in Play Mode.
Then you add the Flow String ID. This is the 3 or 4 letter/number code of your flow.
If you were to quit out of Flow Kiosk and then restart it, it will launch and go right into play mode of that flow.
This works great for scenarios where you need to ensure that the iPad and Flow Kiosk launch into a specific flow. To make an iPad restart into Flow Kiosk and then into a specific flow, you would want to enable this feature and have the iPad in Single App Lock. Single App Lock is enabled via an MDM solution. We will create a blog post on how to use Flow Kiosk and a MDM solution together.
Night Mode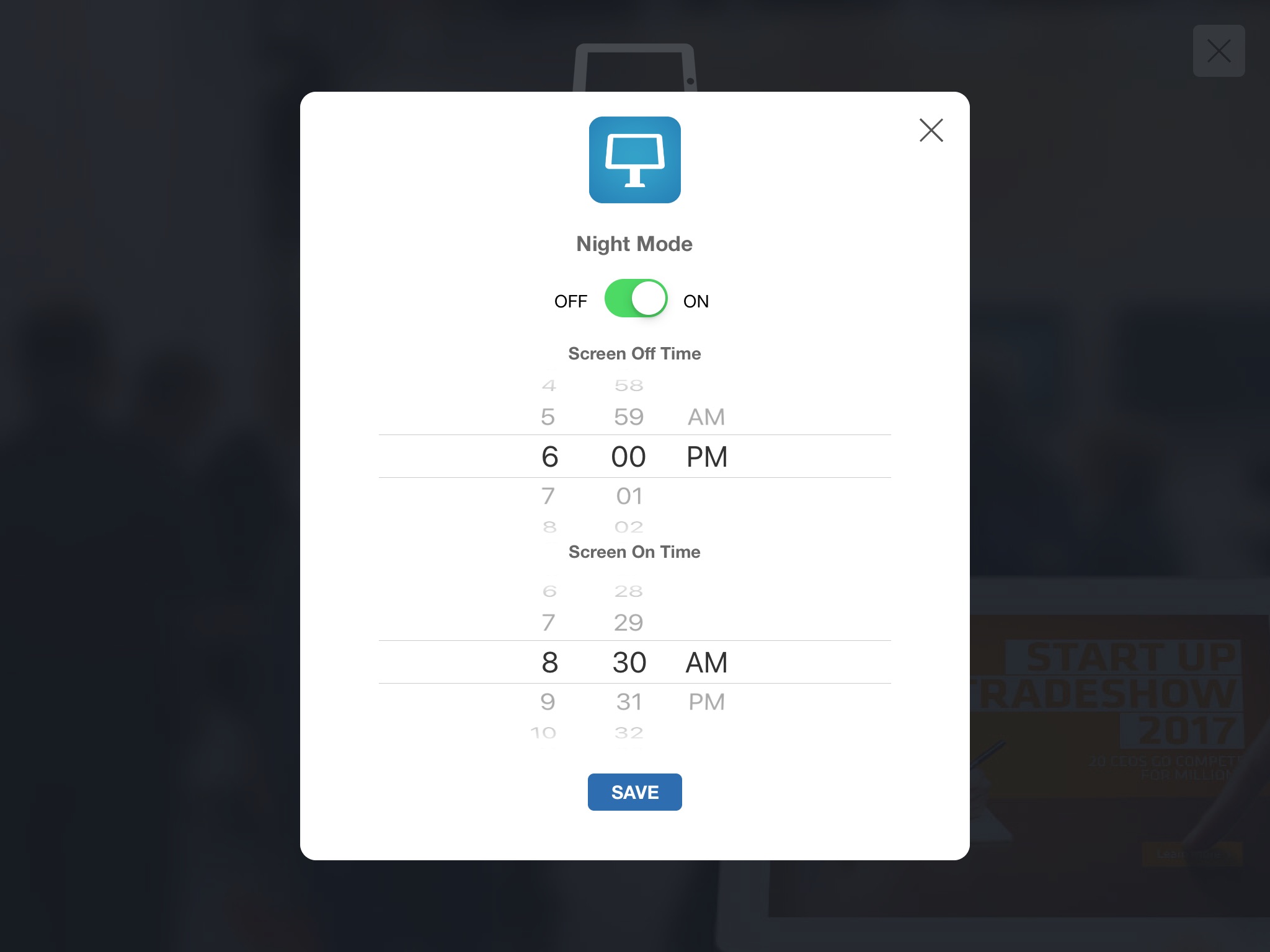 Night Mode has long been requested, but we were pushed further by our new friends at the Gates Foundation for their We The Future exhibit.
Night Mode turns the screen to black, and stops videos from auto playing. You set a Screen Off time as well as a Screen On time. When the screen comes back on, it will restart the flow and a video, if visible and remove the black.
In night mode, the iPad is still on, but because the screen is black and the flow isn't playing, it will reduce the power needs.
To turn on Night Mode, go to the main Kiosk Mode settings, then hit the 'Enable' button below Night Mode. This brings you to a screen where you switch on of off night mode and set the screen off and on times.
Video Controls Removal Setting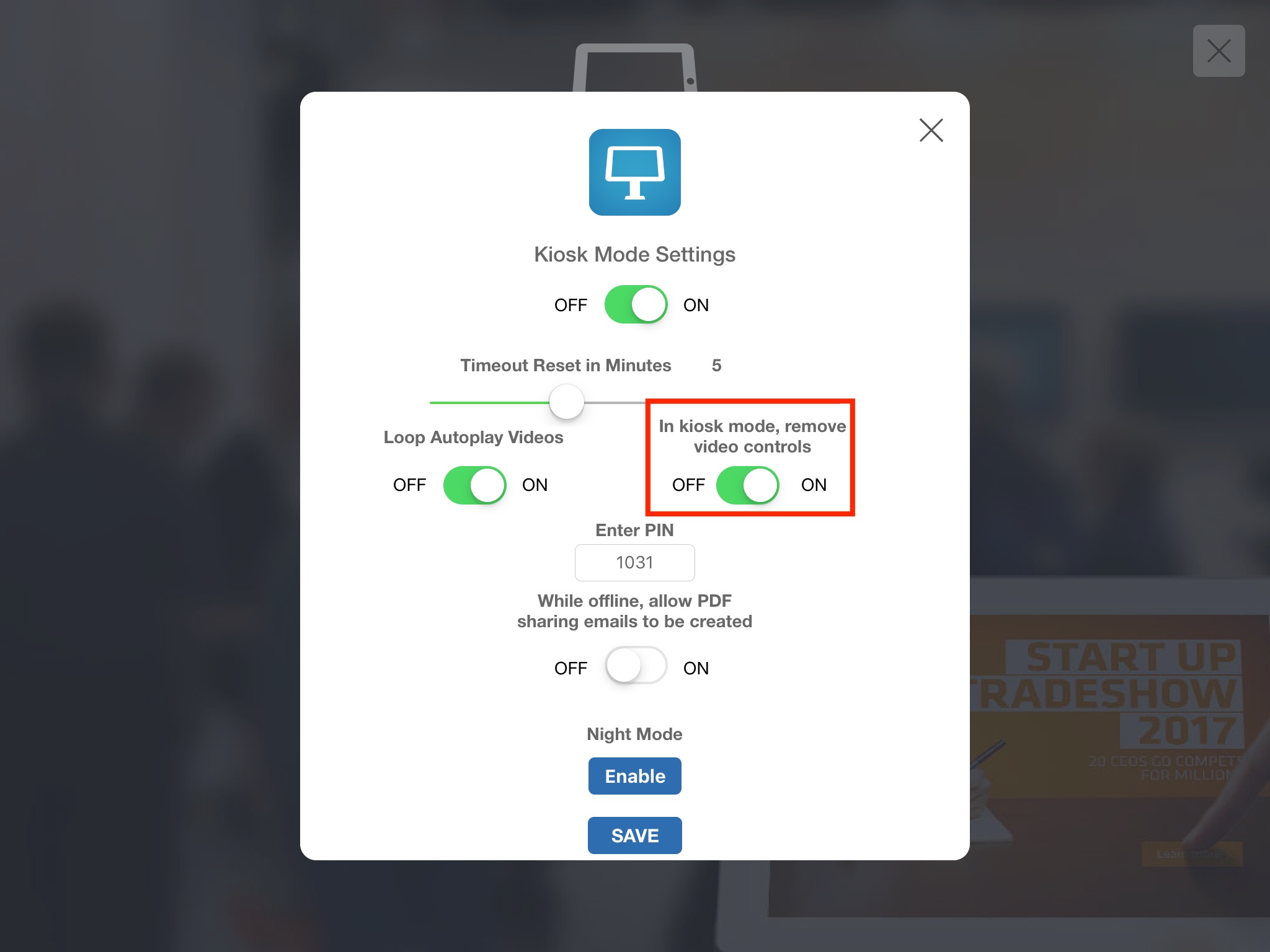 We're calling this the Kevin D video setting as it was a last minute request from our new friend and customer Kevin D. With iOS 13 and the built in iOS aka iPad video player, a couple things changed. You can now swipe away a video in addition to hitting the 'x' close button. Kevin requested that we remove the controls on videos (when in full screen and NOT autoplay). This forces a user/attendee/visitor to view the whole video and not exit out before and not change the volume.
We created a new setting in the main Kiosk Mode settings screen called, "In kiosk mode, remove video controls". If turned on, you will have no controls on a full screen video while in kiosk mode. Make sense? Simple? We think so.
Many thanks to Kevin and Jessica for pushing us to make Flow Kiosk better.
Please send your feature requests and any other feedback, we read it all and we will consider it. And, we may even build it quickly.
To download Flow Kiosk, go here
If you have any questions, please reach out to us via web chat or email.