Remote Kiosk Management from a Flow Kiosk perspective
Remote Kiosk Management from a Flow Kiosk perspective
Remote Kiosk Management
After working with a growing number of kiosk customers through FlowVella, we have had the good fortune to receive amazingly actionable feedback from our customers. This feedback encourages and drives our features and is what ultimately brought us to develop Flow Kiosk as a standalone kiosk solution. We are actively seeking feedback and requests on remote kiosk management as we finalize the development of our first version.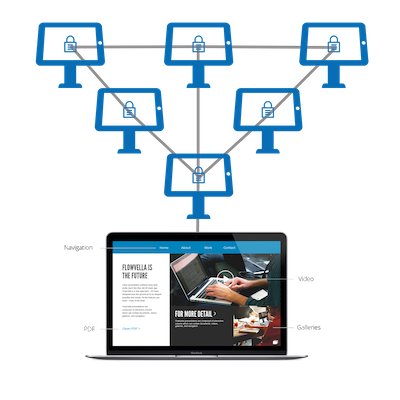 While talking to our larger customers who have dozens or hundreds of kiosks located all over a wide geography, we set out to build the best and easiest tools to manage these kiosks. Kiosk management typically includes the ability to monitor and check status of your kiosks, change the content of your kiosks and get reports on usage of kiosks.
What sets Flow Kiosk apart from other solutions is that we are putting this power into the hands of anyone.  Our solution will be the best priced, easiest to use and superior to every other solution in the market.
Flow Kiosk Management Portal
We are in the process of finalizing of our remote kiosk management portal and have been working hard on building features within the Flow Kiosk app as well as the web portal.
The 1.0 Flow Kiosk Management Portal will have the follow features:
see devices by location
name devices either in the portal or on device for easier updating
set up groups of devices
update content – presentations on devices
update groups of devices
monitor devices
get reports/analytics on usage.
We would love to open up a dialogue with our users to discover what features we are missing. Please let us know in the comments below or contact us directly at support [at] flowvella.com. We are dedicated to building the best solution and we can't do it without your help.
Other resources:
Download FlowVella for Mac (you do know that you can use FlowVella and Flow Kiosk together.. right?)