Introducing Flow Kiosk, the iPad Kiosk App
Introducing Flow Kiosk, the iPad Kiosk App
Today we are pleased to announce the launch of Flow Kiosk, a dedicated iPad Kiosk app by FlowVella.
Because we built FlowVella as an iPad first, interactive and multimedia presentation app, it gained use as a kiosk for trade shows, events, museums and in retail. Through the years, several customers made suggestions to make FlowVella an effective iPad kiosk app and we are very grateful. Last March, we added our 'kiosk mode' features and settings in FlowVella. That gained us even more customers whose primary use of FlowVella was as a kiosk, and with it, more kiosk specific feature requests.
In the last few years, we added several kiosk specific features; the ability to turn off swiping on a page, an inactivity reset, a looping video setting, and kiosk mode, which allows the presentation to be locked into view mode. We introduced our forms and lead capture feature in the beginning of this year. And we now receive requests for other kiosk features to add into FlowVella. But, FlowVella is not primarily an iPad kiosk app, although for many of our users, it is.
And Now… Flow Kiosk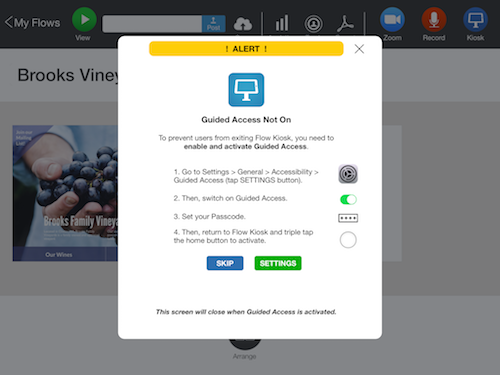 Our plan is simple, to build the best iPad kiosk app, Flow Kiosk, as well as the best mobile first presentation app, FlowVella.  We decided to build a dedicated app for kiosks and digital signage, and thus the birth of Flow Kiosk.
This launch version takes all the FlowVella features that you know and love with the introduction of kiosk specific features and kiosk specific templates. Flow Kiosk is meant for kiosk use, so it helps/pushes you into a secure, kiosk mode. It also detects and ensures that the iPad is in 'Guided Access' mode so viewers can't exit out of the Flow Kiosk app.
FAQ
Does my FlowVella account work in Flow Kiosk? Yes, but you need to be a PRO user to use Flow Kiosk.
If I create a presentations in FlowVella, will it work in Flow Kiosk? Yes, this is especially important if you are using the FlowVella Mac app, you can continue to use the FlowVella Mac app to create and edit presentations for Flow Kiosk.
Are you going to put less emphasis on FlowVella in the future? No, our plan is to continue to build out the common core of these two apps, the server infrastructure and then focus on the features that set apart kiosk and presentation apps.
Where can I get Flow Kiosk? You can visit the Flow Kiosk web site and download the app from there.
We already have a couple of big features coming to both Flow Kiosk and FlowVella and we have some large customers who are adopting both apps to be announced in the coming weeks and months.
Thank you for your support as we continue to grow our business and community of users. And, please, if you have any suggestions or need anything from us, please reach out.
– Brent
[This post first appeared on FlowVella at https://flowvella.com/blog/ipad-kiosk-app-flow-kiosk/ ]